Is a mood disorder robbing you or someone you love of a happy and healthy life?
It is highly unlikely your mood disorder will go away on its own, and it may worsen over time. The good news is that mood disorders can be successfully treated. Medication, counseling, and other approaches in our mood disorder treatment programs can make a difference.
You can reclaim your story. Call today.
What Are Mood Disorders?
Mood disorders are a category of mental health concerns characterized by the elevation or lowering of a person's mood. If you have a mood disorder, your general emotional state or mood is distorted or inconsistent with your circumstances. This can interfere with your ability to function in many life settings.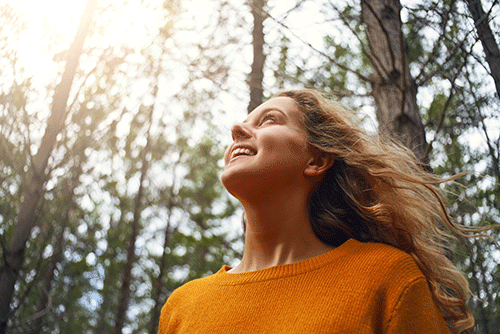 At Honey Lake Clinic, our experienced doctors, therapists, and staff strongly believe that holistic, faith-based treatment encompassing your spiritual, physical, and mental health will provide you with the long-lasting tools and knowledge to take your life back.
Common mood disorders include:
Major depressive disorder – Characterized by prolonged and persistent periods of extreme sadness.
Bipolar disorder – Also called manic depression or bipolar affective disorder, this is characterized by depression that includes alternating times of depression and mania.
Seasonal affective disorder (SAD) – This is a form of depression most often associated with fewer hours of daylight in the far northern and southern latitudes from late fall to early spring.
Cyclothymic disorder – A disorder that causes emotional ups and downs that are less extreme than bipolar disorder.
Premenstrual dysphoric disorder – Mood changes and irritability that occur during the premenstrual phase of a woman's cycle and go away with the onset of menses.
Persistent depressive disorder (dysthymia) – A long-term (chronic) form of depression.
Disruptive mood dysregulation disorder – A disorder of chronic, severe, and persistent irritability in children that often includes frequent temper outbursts that are inconsistent with the child's developmental age.
Depression related to medical illness – A persistent depressed mood and a significant loss of pleasure in most or all activities that are directly related to the physical effects of another medical condition.
Depression induced by substance use or medication – Depression symptoms that develop during or soon after substance use or withdrawal or after exposure to a medication.
Our Holistic Approach to Mood Disorder Treatment
While many mental health programs give lip service to spirituality or divine power, Honey Lake Clinic helps people re-engage their faith and spirituality as an integral part of health and wholeness. We recognize each person is uniquely created, having three spheres—spirit, mind, and body—that are dynamically intertwined, affecting each other and thus determining how they process and respond to the world around us.
Integrating this spiritual component and using a specifically Christian worldview to better inform the psychological and physiological spheres, our patients are able to implement their spiritual beliefs to help them experience renewed purpose, peace, joy, love, and fulfillment.
A Faith-Informed Behavioral Health Treatment Model
While psychopharmacology can be helpful in many instances, it is never curative and often comes with dangerous side effects. At Honey Lake Clinic, we appropriately prescribe and carefully monitor psychiatric medications to help control psychiatric symptoms. But our treatment program—consistent with research—recognizes psychotherapy as a neurobiological intervention, producing more lasting transformation and no side effects.
All psychotherapy is built on the ability to perceive life and self accurately and then respond appropriately. Because perception and response are key in the decision-making process, the faith component is vitally important. Re-engaging your faith will better inform your perception and response, positively impacting your decision-making.
At the heart of Honey Lake Clinic's treatment program are a Christ-centered therapeutic environment, community, curriculum, and structure. While this highly structured healing community represents a microcosm of the larger society and family system, it also provides a safe, supportive environment where patients can address the dynamics of their struggles. Here in this safe setting, you can explore, learn, and practice alternative and more productive means of dealing with those dynamics.
Your Multidisciplinary Team for Mood Disorder Treatment
Upon arrival at Honey Lake, you'll be assigned a multidisciplinary team consisting of a psychiatric specialist, licensed therapists, and nursing staff who initially perform a comprehensive behavioral health bio-psycho-spiritual assessment and psychological profile. The team will use these assessments to address your particular case, implementing a coordinated approach of the following modalities:
Brain and body – Psychopharmacology, physical health maintenance, nutrition, exercise, sleep, hygiene, and substance use education through both individual and group instruction.
Mind – Individual, family, and group therapy sessions as well as psychoeducational workshops incorporating these psychotherapeutic modalities: cognitive-behavioral therapy, emotion-focused therapy, psychodynamic psychotherapy, motivational interviewing, family systems therapy, dialectical behavior therapy, meditation, interpersonal therapy, therapeutic journaling.
Spirit – Focus on understanding belief/value system and using those principles and divine power to inform and empower patients to overcome psychological struggles and fears through the use of devotionals, application-based Bible studies, decision-making deconstruction, and guided prayer to incorporate beliefs into other therapeutic modalities, and psychologically oriented faith-based modules on topics such as forgiveness, communication, relationships/marriage, emotion management, and decision-making consistent with a belief system.
Mood Disorders and Substance Abuse
Depression is a common feature of mental health concerns. A person with a history of any serious psychiatric disorder has almost as high a chance of developing major depression as someone who has had major depression itself in the past.
Alcoholism and other forms of substance dependence are also related to depression. Dual diagnosis, which involves substance abuse and another psychiatric disorder, usually a mood disorder, is an increasingly serious mental health concern. Whether substance use causes the mood disorder or the mood disorder contributes to the substance use, the two together can throw life into a downward spiral. Both need to be treated appropriately in order to recover health and wholeness.
Contact Honey Lake Clinic
At Honey Lake Clinic, we're committed to providing you with compassionate care and the practical equipping necessary to significantly improve the condition which brought you to our program. We're here for you.
A faith-informed model, experienced staff, licensed professional caregivers, and individualized treatment—all in a beautiful and tranquil lakeside setting—what are you waiting for? Make the call. Regain control of your life today.