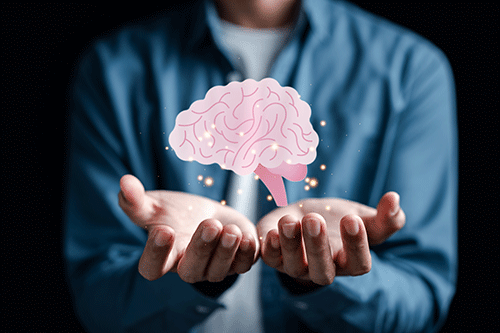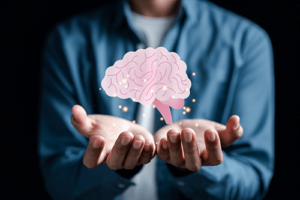 Evidence-based treatment for mental health disorders like depression can change your life. At Honey Lake Clinic, you'll find world-class care in a peaceful setting that can help you break free of mental health concerns like depression and anxiety. Our treatment plans utilize a variety of therapeutic approaches, and one of the most effective is the Fisher Wallace stimulator.
We're committed to meeting patients where they are and helping them step into their God-given potential. Christ-centered care in our serene lakefront setting can be a vital part of your journey to healing. To learn more about our Fisher Wallace program, call 888.428.0562 or reach out to us online today.
What Is Fisher Wallace?
The Fisher Wallace program is a non-invasive treatment for depression, anxiety, and other mental health conditions. It is a form of neuromodulation therapy that works by stimulating the brain's production of serotonin and other neurotransmitters. Fisher Wallace uses a device that sends microcurrent stimulation to the brain via two electrodes placed on the forehead. The device is approved by the FDA for the treatment of depression, anxiety, and insomnia.
How the Fisher Wallace Stimulator Works
The Fisher Wallace stimulator works by stimulating the brain's production of serotonin, dopamine, and other neurotransmitters. The device uses a precise frequency of alternating current and voltage to increase blood flow to the brain and enhance neuronal activity. The stimulation from the device helps improve the communication between neurons, which results in reduced symptoms of depression and anxiety.
A typical session with the Fisher Wallace stimulator lasts 20 minutes and is usually painless. The stimulation level can be adjusted to ensure patient comfort, and the device is small and easy to use.
The Differences Between Fisher Wallace and TMS Therapy
Transcranial magnetic stimulation (TMS) therapy is another non-invasive treatment for depression and anxiety. While TMS and Fisher Wallace use similar techniques, there are some key differences.
Differences between these methods include:
Delivery – TMS therapy is delivered through a magnetic field, while Fisher Wallace stimulators use electrical current.
Duration – TMS therapy typically takes 30 minutes per session and is given over a period of several weeks, while Fisher Wallace stimulator treatments can be as short as 20 minutes and require fewer sessions.
Intensity – TMS therapy is typically more intense than Fisher Wallace, making it better for treating more severe depression.
Not sure if you're a candidate for Fisher Wallace in our Florida resort? Honey Lake Clinic's team can help.
Is Fisher Wallace Effective?
Yes—Fisher Wallace is a safe and effective treatment for depression, anxiety, and other mental health conditions. Patients who have completed the Fisher Wallace program at Honey Lake Clinic have reported improved mood, reduced anxiety, and improved sleep quality.
Some of the reasons why Fisher Wallace is an effective treatment include its non-invasive nature, short treatment times, and FDA approval. Plus, there are no known side effects from Fisher Wallace.
Reach Out to Honey Lake Clinic Today to learn more
Looking for Christ-centered care for mental health that can help you reclaim your story? At Honey Lake Clinic, we offer treatment that supports our patients on three levels—spiritually, psychologically, and physically. Each of these is important for overall healing, and Fisher Wallace in our Greenville, Florida, resort can be an integral part of this process.
We meet our patients where they are and help them on the journey to becoming the person God has created them to be. If you're ready to learn more about Fisher Wallace or other evidence-based treatments, contact us online or call us at 888.428.0562 today. Our compassionate team is here to help you take the next step toward a better tomorrow.