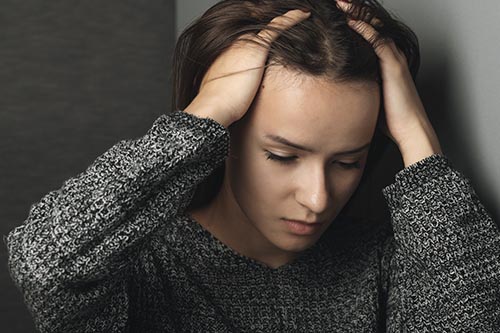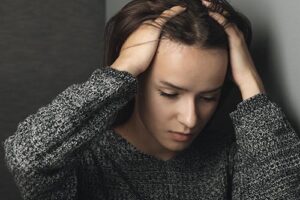 Are anxiety or panic attacks interfering with your daily life and activities? An anxiety disorder won't go away on its own, but our anxiety treatment program can make a difference. Our Biblical worldview, clinical excellence, and resort-style lakeside facility make Honey Lake Clinic the ideal choice for anxiety treatment that will help you heal in body, mind, and spirit. 
Reclaim your story through our behavioral health treatment programs in Greenville, Florida. Anxiety treatment in our facility can help you identify and change thought patterns that lead to unhealthy behaviors. Our innovative, evidence-based approaches provide the tools for lasting psychological well-being and improved overall health. 
Call 888.428.0562 or reach out to our team online today to get started. 
Is Our Anxiety Treatment Program Right for You? 
Everyone feels anxious from time to time. When facing a stressful situation, considering an important decision, awaiting news, an answer or result, nervous or anxious moments are quite normal. However, anxiety or panic disorders are different. Anxiety and panic disorders are mental health conditions that cause fear, apprehension, or distress that interfere with a person's daily life and activities.
If you struggle with anxiety, you know that anxiety attacks can strike at any time and can become very vivid and frightening. Experiences can vary from person to person in kind, severity, and frequency. 
Typical anxiety or panic attack symptoms include:  
Sudden, overwhelming fear  
Fear of imminent death or impending doom  
Heart palpitations or a racing heartbeat (sometimes accompanied by chest pain) 
Chills or hot flashes   
Sweating, trembling, or dizziness  
Numbness or tingling in the limbs or entire body  
Shortness of breath  
Sensation of choking  
Nausea  
People struggling with an anxiety disorder can experience these symptoms repeatedly and often in the absence of realistic stimuli. Because anxiety can be such a powerful and painful experience, those who struggle with anxiety may feel as if their lives are out of control—the condition can become life-altering and debilitating.  
However, anxiety can be successfully treated. Our anxiety program at Honey Lake Clinic can help to reduce symptoms, provide relief from overwhelming fear and worry, and improve your overall quality of life. 
What Sets Our Anxiety Treatment Program Apart? 
At Honey Lake Clinic, our professional and experienced team of licensed therapists, psychologists, and psychiatric specialists all administer care from a distinctly Biblical worldview and perspective. We recognize that faith-based treatment, encompassing your spiritual, physical, and mental health, will provide you with the long-lasting tools and knowledge to take your life back from anxiety.  
Most mental health programs and traditional forms of treatment overlook the spiritual aspects of an individual's presenting issues or, at best, give lip service to spirituality or divine power. Our program is designed to be truly holistic, taking an in-depth look at all three spheres—spirit, mind, and body. Honey Lake Clinic helps patients re-engage their faith and spirituality as an integral part of health and wholeness.  
Our comprehensive anxiety treatment program deeply addresses each patient's medical, psychosocial, and spiritual spheres. We help each individual discover how all three spheres of their being are interrelated and affect each other and develop a better strategy to practically apply that knowledge for long-term healing and life transformation.   
Signs You Would Benefit from Anxiety Treatment  
Not sure if our anxiety treatment program in Greenville, Florida, is right for you? Here are some signs that indicate it's likely time to seek help:  
Are you worrying too much to the extent it interferes with work, school, relationships, or other areas of your life?  
Do you feel unable to control worry, fears, or anxiety?  
Do you feel depressed, have trouble with alcohol or drug use, or have other mental health concerns along with anxiety?  
Are you worried that anxiety could be linked to a physical health problem?  
Are you having suicidal thoughts? (If this is the case, seek emergency treatment immediately.)  
Anxiety and even depression won't go away on their own. But with the right help and resources, you can enjoy a life free of anxiety's grip.  
Contact the Honey Lake Clinic Team Today 
Through individualized treatment and supervised activities, all experienced in a safe and caring environment away from everyday distractions, you will be able to focus on learning and applying life-changing skills. We'll help you find wholeness in mind, body, and spirit.  
Reclaim your story at Honey Lake Clinic. Get started with life-changing anxiety treatment by calling 888.428.0562 or reaching out online today.