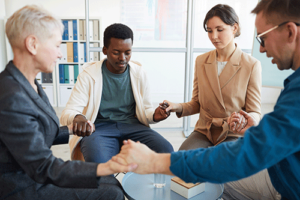 Reaching out for help can be challenging. It takes courage to admit you are struggling and need help. At Honey Lake Clinic, we provide compassionate, evidence-based mental health treatment for adolescents and adults with mood disorders and addiction. Our sprawling lakeside resort provides a peaceful backdrop for recovery, and our experienced professionals offer a Christian approach to therapy and counseling.
We specialize in treating a wide range of mental health conditions as well as substance use issues in adults. By addressing the impact that mental health concerns or addiction can have on the body, mind, and spirit, we're able to help our patients reclaim their stories and discover their God-given potential.
If you're ready to learn more about what Honey Lake Clinic treats and our approach to treatment, contact our team today at 888.428.0562.
What We Treat: Adult Programs
Adults in our care can receive treatment for a wide range of mood disorders, including: 
Major depressive disorder – Characterized by intense feelings of sadness, hopelessness, and lack of motivation
Bipolar disorder – Periods of elevated or irritable moods (mania) and periods of low moods (depression)
Seasonal affective disorder (SAD) – Typically characterized by depression that occurs in the fall and winter months
Cyclothymic disorder – Long-term depressive and manic episodes
Premenstrual dysphoric disorder (PMDD) – Intense physical and emotional symptoms that occur during a woman's menstrual cycle
Persistent depressive disorder (dysthymia) – Low-level depression that lasts for multiple years
Disruptive mood dysregulation disorder (DMDD) – Characterized by severe and frequent outbursts of temper 
Depression related to medical illness or trauma – This can include physical illnesses, such as cancer or diabetes, or mental health conditions that are the result of a traumatic event
Depression induced by substance use or medication – This type of depression can happen in people who use drugs, alcohol, or certain medications
We also offer a faith-based rehab program for those struggling with addiction. Our approach takes into account any co-occurring mental health concerns as well as the physical and spiritual aspects of addiction. We provide medically supervised detox services to support our patients as they work to gain control of their lives and break free from addiction. 
What We Treat: Adolescent Program
We offer a teen-specific program with separate housing and programming. Adolescent girls in our care can receive treatment for a wide range of mental health conditions, including: 
Anxiety – Excessive fear and worry that interferes with day-to-day functioning
Mood disorders – A range of symptoms that interfere with emotions, including depression and bipolar disorder
Depression – Sadness, loss of interest in activities, and feeling hopeless
Bipolar disorder – Periods of elevated or irritable mood (mania) and periods of low mood (depression)
Post-traumatic stress disorder (PTSD) – Anxiety and fear brought on by traumatic experiences
Attention-deficit/hyperactivity disorder (ADHD) – Characterized by difficulty focusing and controlling impulses
Trauma – Emotional, physical, or psychological responses to a traumatic event 
Our adolescent program does not treat eating disorders, obsessive-compulsive disorder, or addiction. However, teens who struggle with substance use in addition to one of the mental health conditions listed above can receive treatment for both at Honey Lake Clinic.
Reach Out to Honey Lake Clinic Today
If you or someone you love would benefit from Christ-centered mental health or addiction treatment in the supportive environment of our Greenville, FL, lakeside resort, our caring admissions counselors are standing by. Wholeness and transformative growth are possible, and we are committed to helping you or your loved one find the hope and healing they need. 
Are you ready to get started? Just call 888.428.0562 or reach out to our team online today. Treatment at Honey Lake Clinic can change your life—let us be a part of your journey.