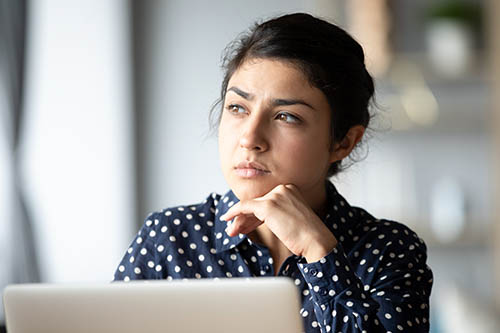 Depression can hold you back from living life to the fullest, but there is help available. Our depression treatment center approaches treatment from a Biblical worldview, meaning you'll be supported by counselors who understand the importance of your faith in mental health treatment. At Honey Lake Clinic, we believe that faith-based treatment that encompasses spiritual, physical, and mental health can help you reclaim your story. 
We recognize each person is uniquely created, having three spheres—spirit, mind, and body—dynamically intertwined, affecting each other and thus determining how people process and respond to the world around them. Every individual in our care benefits not only from our holistic approach and clinical expertise but also from the peace and serenity of our resort-style lakeside facility. 
There is life beyond depression. Learn more about our Greenville, Florida, behavioral health treatment programs by calling 888.428.0562 or reaching out online today. 
Understanding Depression 
Depression is a complex condition with many contributing factors. It's characterized by feelings of sadness, helplessness, and hopelessness. It can take many forms and affect individuals differently, but one common symptom is a persistent feeling of sadness and an inability to find joy in activities that were once enjoyable. Often, depression is accompanied by difficulty sleeping, a lack of energy, and an inability to concentrate. It can also co-occur with other mental health conditions, including anxiety, bipolar disorder, and addiction. 
Depression can be incredibly isolating, but it's important to remember that you're not alone in your journey to wholeness and transformation. At Honey Lake Clinic, our depression treatment program uses a specifically Biblical worldview to inform our treatment approach, providing compassionate and confidential care that is tailored to meet your individual needs.  
Our Depression Treatment Center in Greenville, Florida 
Although psychopharmacology can be helpful in many instances, it is never curative. At Honey Lake Clinic, we appropriately prescribe and carefully monitor psychiatric medications to help control psychiatric symptoms. But our treatment program recognizes psychotherapy as a neurobiological intervention that produces more lasting transformation and no side effects.  
All psychotherapy is built on the ability to perceive life and self accurately and then respond appropriately. Because perception and response are key in the decision-making process, the faith component is vitally important. Re-engaging your faith will better inform your perception and response, positively impacting your decision-making skills.  
Upon arrival at Honey Lake Clinic, you'll be assigned a multidisciplinary team consisting of a psychiatric specialist, licensed therapists, and nursing staff who initially perform a comprehensive behavioral health bio-psycho-spiritual assessment and psychological profile.  
The therapies and services we incorporate into treatment might include: 
Nutrition counseling 
Substance use education 
Individual, family, and group therapy sessions 
Cognitive-behavioral therapy 
Dialectical behavior therapy 
Eye movement desensitization and reprocessing (EMDR) therapy 
Fisher Wallace 
Art therapy 
This is not an exhaustive list—as your treatment progresses, we may recommend additional therapies to maximize your recovery. Devotionals, application-based Bible studies, and guided prayer are incorporated into our treatment program as well. 
Reach Out to Honey Lake Clinic Today for Depression Treatment 
At the heart of Honey Lake Clinic's depression treatment program is our Christ-centered therapeutic environment, community, curriculum, and structure. While this highly structured healing community represents a microcosm of the larger society and family system, it also provides a safe, supportive environment where individuals can address the dynamics of their struggles. Here in this safe setting, you can explore, learn, and practice healthy coping skills. 
A faith-informed model, experienced staff, licensed professional caregivers, and individualized treatment—all in a beautiful and tranquil lakeside setting. If you're ready to reclaim your story in our depression treatment center, call 888.428.0562 or reach out to our team online today.