9 Cutting Agents Used in Heroin
Have you noticed the stories of heroin abuse, addiction and overdoses in the headlines every day? It is impacting families everywhere. As evidenced in all those headlines—heroin is a killer.
Heroin is a powerful, illegal street drug. It has no medicinal use, and is available only through illicit black markets. Today, dealers often "cut" heroin with a variety of other substances so they can sell more at lesser expense, and thereby at greater profit for themselves. Because of this, buying heroin on the street is a roll-of-the-dice. You will never really know the precise make-up or strength of the drug they're using.
If you or someone you love has developed a heroin addiction, seek help immediately. Speak confidentially with a counselor right now. Make the call. (888) 837-6577.
Think of it like watered down alcohol—but deadly.
Because heroin typically comes in a white powder, clear solution, or black tar-like substance, it's easy to hide cutting-agents of similar appearance and pass it off as pure. These additives are often unknown and can vary from batch to batch. This practice is now so prevalent, it is practically impossible to find pure heroin on the streets today.
There's no way of knowing what you're putting in your body and many of the chemicals that heroin is cut with are not safe for human consumption. These unknowns also result in batches of heroin having vastly different potencies, increasing the risk of overdose.
Here is a list of nine common cutting agents:
Baking soda
Sugar
Starch
Crushed over-the-counter painkillers
Talcum powder
Powdered milk
Laundry detergent
Caffeine
Rat poison
As you can imagine, none of these substances are particularly safe to snort or inject directly into your bloodstream. Some are worse than others. Many won't dissolve completely and can lead to serious health crises, like blocked arteries, heart attacks, blockages in the brain, and organ damage.
Cutting in other intoxicants—A faster-track to the grave
A startling trend of late is cutting heroin with other intoxicants in order to increase the high. Reports of heroin being cut with the prescription medication fentanyl are particularly alarming. Fentanyl is a synthetic opioid, some 30-50 times more potent than heroin. The combination of the two significantly increases a user's chance of overdose and death.
The life-and-death realities of heroin use
Every time heroin is used, overdose is a risk. Once addiction takes hold, the looming risk of overdose multiplies. Your life is in danger. Don't wait. Get help.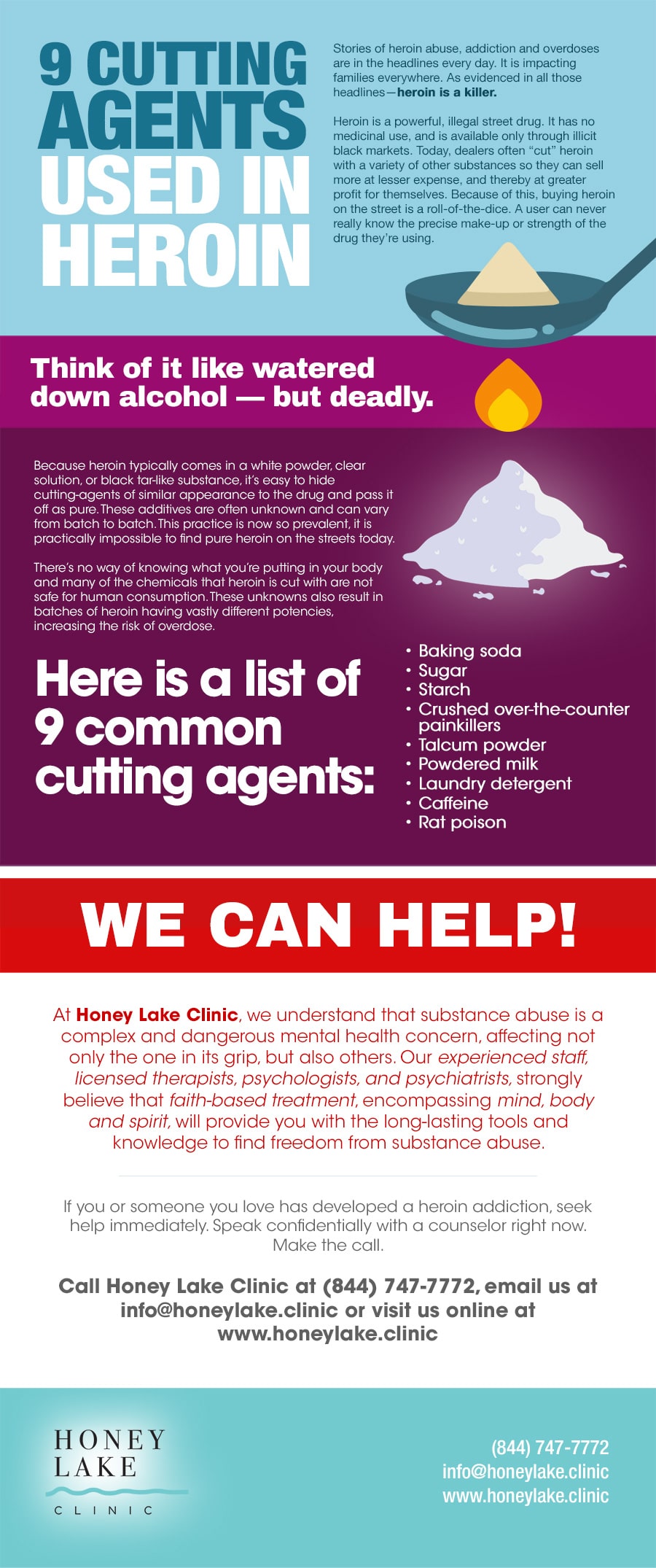 If you see signs of heroin addiction in yourself or a loved one, we can help.
At Honey Lake Clinic, we understand that substance abuse is a complex and dangerous mental health concern, affecting not only the one in its grip, but also others. Our experienced staff, licensed therapists, psychologists, and psychiatric specialists, strongly believe that faith-based treatment, encompassing mind, body and spirit, will provide you with the long-lasting tools and knowledge to find freedom from substance abuse.
A beautiful and tranquil 1300-acre lakeside setting, a safe medical environment, 24-hour nursing, doctors and psychiatric specialists, all administering care from a Christian worldview and perspective—
Honey Lake Clinic is a unique solution in Christian mental health.